Article 6

HUNDREDS AT WEDDING OF POP-SINGER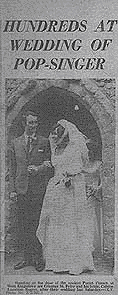 Several hundred people from West Kingsdown and surrounding areas were at the Parish Church of St Edmund, King and Martyr, when Mr. Robin Peter Smith, better known as pop singer Crispian St Peter, married 21-year-old Miss Colette Lucienne Rogers last Saturday.
Crispian, younger son of Mrs Phyllis Smith of Swanley, and the late Mr Smith, and Colette only daughter of Mr and Mrs E A Rogers of Eleanor, Rushetts Road, West Kingsdown, were married by the Rector of West Kingsdown, the Rev. Robert McCulloch.
The best man was Mr Barry Smith, the bridegroom's brother.
A reception was held at Farningham Village Hall, where Crispian entertained his guests by singing many of the songs he has recorded.The bride and bridegroom have gone to Malta for a two week honeymoon.
(Slightly abridged version)
Kentish Times 18/7/69.